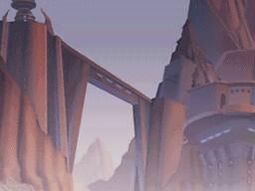 Encephalonus IV
is home to the species Cerebrocrustacean (Brainstorm's species),
Appearance
Edit
This planet is filled with inventions, machines, etc. It looks like an artificial planet, but it was just built on very high mountains.
The planet is reddish or orange (which is the reason why Cerebrocrustaceans are the same color).
This planet was shown on the game "Ben 10 Alien Force: Vilgax Attacks". This was also a level in "Vilgax Attacks". In this appearance it was rainy and may have frequent lightning strikes, possibly relating to Cerebrocrustacean electrical blasts.
Ad blocker interference detected!
Wikia is a free-to-use site that makes money from advertising. We have a modified experience for viewers using ad blockers

Wikia is not accessible if you've made further modifications. Remove the custom ad blocker rule(s) and the page will load as expected.