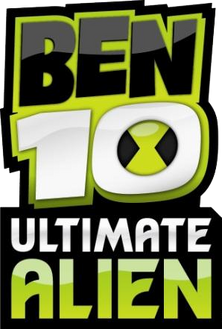 Ben 10: Ultimate Alien
is the sequel series to
Ben 10: Alien Force
. It premiered on April 23, 2010.
The art and story styles in this series is similar to Alien Force. Picking up a month after Alien Force's finale, The series follows on 16-year old Ben and Gwen along with a 17-year old Kevin.
Ben's secret identity has been revealed to the world and he is now an international mega-star super hero, loved by kids all-over the world, but distrusted by many adults such as reporter Will Harangue. Armed with Ultimatrix, Ben will face being hunted by rogue alien threats, human mercenaries, and assassins hired by opposing adults. The main enemy of the first season is named Aggregor who is after the "Ultimate Prize". . The series premiered in the United Kingdom, Australia, Asia and Latin America on 10/10/2010 at 10:00 A.M. on Cartoon Network.
Characters
Edit
Main Characters
Edit
Ben Tennyson
Gwen Tennyson
Kevin E. Levin
Recurring Characters
Edit
Julie Yamamoto
Alan Albright
Cooper Daniels
Jimmy Jones
Azmuth
Paradox
The Plumbers
Colonel Rozum
Ship
Charmcaster
Bivalvan
Galapagus
P'andor
Andreas
Ra'ad
Oliver Thompson
Baz-El
Verdona Tennyson
Max Tennyson
Elena Validus
Adwaita
Aggregor (Defeated and arrested)
Albedo
Will Harangue (Neutral)
Aggregor's Soldiers (Defeated)
Antonio (Neutral)
Argit
Buzz (Defeated)
Charmcaster
Computron (Destroyed)
Connor
Conduit Edwards
Darkstar/Michael Morningstar (Defeated)
Diagon
Dr. Animo
Driscoll
Elena Validus (Controlled by the hive)
Enoch
Eon (Defeated)
Forever Knights
Garbage Monster
Hammer (Defeated)
Ultimate Kevin (Formerly Insane)
Kolar (Defeated)
Computron's Minions
King Viktor
Lucubra (Imprisoned for now)
Ma Vreedle
Morgg (Arrested)
Mizaru (Deceased)
Overlord
Prisoner 775
Old George
Patrick
Pickaxe Aliens
Plant Alien (and its Plant Clones) (Destroyed)
Prince Gyula
Psyphon (Defeated)
R.E.D.'s (Destroyed)
Rojo (Arrested)
Rojo's Gang (Arrested)
Sevenseven (Defeated)
Sir Cyrus
Ssserpent
Sunny (Neutral)
Surgeon (Defeated)
Sunder (Neutral)
The Stalker (Destroyed)
Trumbipulor (Arrested)
Urian
Vilgax
Vulkanus
Zombozo (Defeated)
Alien X
AmpFibian
Armodrillo
Articguana
Benmummy
Benvicktor
Benwolf
Big Chill
Brainstorm
Buzzshock
Cannonbolt
ChamAlien
Chromastone
Clockwork
Diamondhead
Ditto
Eatle
Echo Echo
Eon
Eye Guy
Fasttrack
Four Arms
Ghostfreak
Goop
Grey Matter
Heatblast
Humungousaur
Jetray
Jury Rigg
Lodestar
Nanomech
NRG
Rath
Ripjaws
Shocksquatch
Spidermonkey
Spitter
Stinkfly
Swampfire
Terraspin
Upchuck
Upgrade
Water Hazard
Way Big
Wildmutt
Wildvine
XLR8
Ultimate Forms
Edit
Ultimate Wildmutt
Ultimate Cannonbolt
Ultimate Swampfire
Ultimate Big Chill
Ultimate Humungousaur
Ultimate Spidermonkey
Ultimate Echo Echo
Ultimate Ben (Future Ultimate Form)
List of Ben 10: Ultimate Alien Episodes
Video Games
Edit
Ben 10 Ultimate Alien: Cosmic Destruction
Ben 10: Galactic Racing
The amount of episodes in this series is the same amount as the 1st series (52).
All of the aliens shown in the opening show the Ultimatrix symbol has moved to every alien's chest except for Spitter.